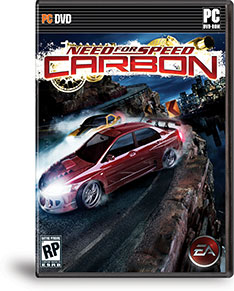 Wake up and smell the burnt asphalt !

The thrill of illicit street racing permeates the air. From the makers of the hit Need for Speed™ Underground series, Need for Speed™ Carbon challenges players to become the most notorious and elusive street racer.

Cheat Codes Type any of the following cheat codes at the 'CLICK TO CONTINUE' screen.

Some codes may work if entered at the MAIN MENU screen.

Note: Entering a code incorrectly will require the game to be restarted.
| | |
| --- | --- |
| Code: | Result: |
| canyonalltheway | All Tracks |
| shinycarsarethebestcars | Chrome Cars |
| 5grand5grand | Castrol Cash |
| friendlyheadlocksapplied | Unlimited Crew Charge |
| nosforeverever | Unlimited NOS |
| slowitdownwhenyouwant | Unlimited SpeedBreaker |
| givemethechargersrt8 | 2006 Dodge Charger SRT8 |
| givemethedb9 | 2005 Aston Martin DB9 |
| chasingheadlocksappliedrashtalk | Mazda Dealership |
| speed3foryou | Mazda Speed3 |
| watchoutthebigtruckishere | Dump Truck in Quick Race Mode |
| bigredfiredrive | Firetruck in Quick Race Mode |
| trashtalking | Rhino in Quick Race Mode |
| guesswhoisback | Cross Corvette Z06 in Quick Race Mode |
| chasingmobile | Corvette Z06 Interceptor in Quick Race Mode |
| cooperlogofreeforyou | Cooper Tire Logo |
| pharrellvinylgogo | Pharrell Vinyl |
| lotsoffreevinyls | NFS: Carbon Special Vinyls |
| lotsoffreelogos | NFS: Carbon Vinyls |
| syntecskin | Castrol Syntec Vinyl |
| inthezoneskin | Autozone Vinyl |